MA Politics
The beginning of the twenty-first century has witnessed a dramatic transformation of the global political landscape, with rapidly shifting regime change and new types of political actor transcending national borders.
This programme will provide you with a firm grounding in political analysis and a critical insight into the real politics behind the headlines. You will build a portfolio of in-depth study of many of the defining events and dynamics of modern society, across Europe, North America, Africa and Asia, providing an understanding of the world that will prove invaluable in either further academic study or a range of professional careers.
Drawing on the unique range of country and conceptual expertise in the School of Politics and International Studies (POLIS), you will be able to tailor your module selection to suit your interests, needs and career plans.
We aim to provide you with an intellectually rigorous and exciting environment in which to study, and an array of academic topics in which we possess expertise.
Research insight
All of the School's research groups, including Leadership, Parties and Institutions and Political Theory and Cultural Values, are accessible through the optional modules, and, in addition, have thriving research seminar series where staff and postgraduate researchers present papers from their own work. The Leadership, Parties and Institutions group, together with a growing expertise in electoral and representative politics, forms the largest of the research groups linked to this MA.
With one of the most renowned teams of researchers on Westminster politics, if you're wishing to specialise in British Politics or legislative studies you will find yourself in a uniquely productive environment.
Experience opportunities
All students on all our degree schemes, including international students, have access to hundreds of volunteering opportunities through the Leeds for Life scheme. In addition, our dedicated careers team and in-School employability champions can work with you to attain work experience opportunities during and after your course.
Profile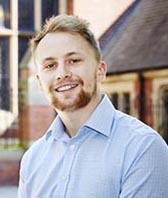 My favourite thing about the course is the scope of the topics I've studied; I've looked at advanced political theory, contemporary British politics, the rise of China and American foreign policy.
Politics MA
This programme through compulsory and optional modules will offer you:
a firm grounding in political analysis
a critical insight in the defining events and dynamics of modern society
a rigorous grounding in the dominant paradigms of political science
an ability to personalise your programme.
You will also be able to hone your research and writing skills in your compulsory dissertation – an independent piece of research on your chosen topic.
The wide-ranging list of optional modules means that you can explore a diverse range of related subjects of interest to you.
If you're a part-time student, you will study over a longer period and take fewer modules in each year.
We also offer an optional specialism in Political Theory. See our Politics (Political Theory) MA page to find out more.

Course structure
These are typical modules/components studied and may change from time to time. Read more in our Terms and conditions.
Year 1
Compulsory modules
Advanced Political Analysis

30 credits

POLIS MA Dissertation

60 credits
Optional modules
Engaging the Modern City: The Civic Researcher

30 credits

Conflict, Complex Emergencies and Global Governance

30 credits

Political Economy of Resources and Development

30 credits

European Defence and Security Analysis

30 credits

The Politics of Brexit

30 credits

The Rise of China

30 credits

American Foreign Policy

30 credits

Contemporary Politics of the Middle East

30 credits

Conflict and Insurgency in Southeast Asia

30 credits

The Politics of the Israel-Palestine Conflict

30 credits

International Political Economy

30 credits

Popular Culture: World politics, Society and Culture

30 credits

International Relations and the Environment

30 credits

Counterterrorism

30 credits

Civil War and Intrastate Conflict

30 credits

Political Theory in Action

30 credits

Global Justice

30 credits

Research Methods

30 credits
Learning and teaching
Each session will combine elements of lecture and seminar discussion. As a postgraduate student, you will be expected to do a significant amount of preparatory reading before each session, and emphasis will be on student-led discussion to build critical and reflective confidence in a group environment.
Assessment
Modules are assessed by varying combinations of exam and coursework, depending on the module.
Career opportunities
As a graduate from this programme, you are well placed to move on to a range of careers where both substantive knowledge of key political domains, and the critical analytical and communication skills developed in the course of your study, are valuable.
In particular, this programme provides an excellent grounding for careers in a range of related areas such as media, civil service, non-governmental organisations, trade unions and academia. It is also ideally suited if you wish to develop the skills necessary to pursue a PhD in Politics.

Careers support
We encourage you to prepare for your career from day one. Thats one of the reasons Leeds graduates are so sought after by employers.
The Careers Centre and staff in your faculty provide a range of help and advice to help you plan your career and make well-informed decisions along the way, even after you graduate. Find out more at the Careers website.